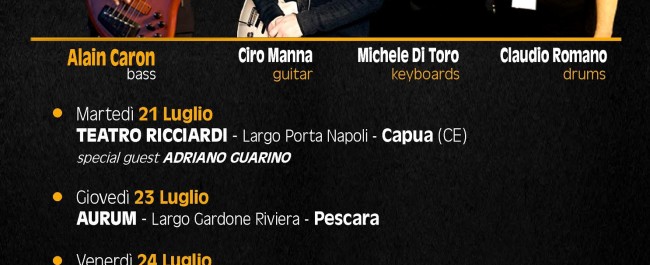 Ciro Manna in tour con Alain Caron
Il virtuoso del basso a sei corde Alain Caron sarà in Italia per una serie di date in collaborazione con Mark World. Accompanying him will be an exceptional training of Italian artists: guitarist Ciro Manna.
Alain Caron, Canadian jazz bassist known for his collaborations with luthier Furlanetto, per la sua lunga lista di lavori solisti e con la formazione fusion Uzeb, sarà in Italia per un tour live organizzato con Mark World e Mark Bass, di cui l'artista è affezionato endorser.
Il bassista sarà affiancato da una formazione tutta italiana. Alla chitarra ci sarà Ciro Manna, di recente unitosi alla schiera di didatti su Accordo e prossimamente di nuovo su queste pagine con alcune chicche. Michele Di Toro accompagnerà Caron alle tastiere e Claudio Romano sarà alla batteria.
 
Le date:
il 2/07/2015

Teatro Ricciardi Capua

(CE)
il 23/07/2015

Aurum Pescara

il 24/07/2015

Il moro Salerno

iIl

26/07/2015

Piscine Le Gemelle Lanciano

(

CH

)
il 29/07/2015

Eddie Lang Jazz Festival Isernia

(

con Ciro Manna Trio

)
il 30/07/2015

Cortile di Palazzo D'Avalos Vasto

(

CH

)
il 01/08/2015

Piazza Aldo Moro Mattinata

(FG)