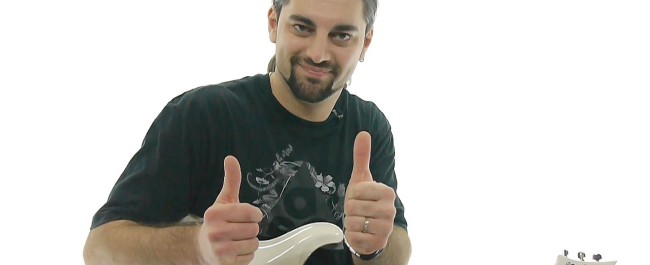 Development pentatonic – Jumps of note: practical examples | Ciro Manna – Guitar Lesson
Dear friends and YouTubers Site Stuff, this new installment of guitar lessons by Ciro Manna ripende the previous appointment in which we analyzed "jumps" of note; Ciro today gives us a practical example with an improvisation, whose phrasing will be very helpful for you to study.
Come sempre troverete nell'articolo sul nostro portale le tablature e la backing track per esercitarvi al meglio, realizzate da un allievo dello stesso Ciro, Vito Di Costanzo.
Vi auguriamo buona visione ricordandovi inoltre che proprio in questo periodo viene presentato il nuovo disco di Ciro, "XY", pieno di preziose collaborazioni a livello internazionale, che vi invitiamo caldamente ad ascoltare!
Buona lezione!