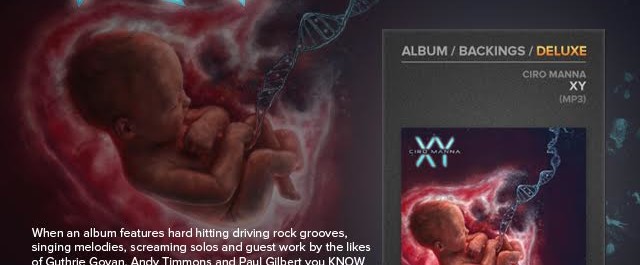 JTC is very pleased to bring Ciro Manna's latest album 'XY'. When Ciro releases a new product it's obvious that it's going to be incredible, and this full length album takes it one step further! This exceptional record shows Ciro at his best; musically, technically, melodically and creatively, Ciro and his band are on top form!
So what can you expect to hear in these tracks? Overall we're looking at a top shelf instrumental Jazz-Rock vibe but the experience goes much deeper than that. With style influences such as Rock/Ballads, Funk, hard hitting driving Rock grooves, singing melodies and screaming solos this record will appeal to the masses and musicians alike.
It also features guest work by many of Ciros friends, including global superstar guitarists Guthrie Govan, Andy Timmons and Paul Gilbert! With Toto drummer Simon Phillips (Jeff Beck, The Who, Judas Priest, Tears for Fears, Mike Oldfield, and Gary Moore) and Leland Sklar (a prolific session bassist with over 2,000 session credits) playing on most tracks, not only are you going to get an outstanding performance on every track but the official backing tracks will allow you to take Ciro's place and jam out with the greats!
Ciro has transcribed everything too so you can learn every lick, riff, solo and guest solo from the official TAB/notation.
Check out the playthrough video of the title track 'XY' below!
Download right now, or Premium Members hit the +MyTracks button and get instant streaming access!
Be sure to click the 'i' icon on the right of each option to see what's included in each download option!